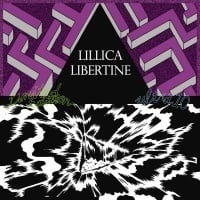 £

3.99
Lillica Libertine AKA Nottingham native Laurence Matthew Blake is one of the countries most exciting young producers.
Just out of school and looking like Lil Wayne if he was in The Blood Brothers, 'Limited Edition' and 'Ultra 10' was Lillica's first EP release.
A side 'Limited Edition' is an infectious maelstrom of distorted synths and complex vocal cuts up. It's brash central riff sticks straight into the head, while the cataclysmic breakdown sounds like ice caps melting and is guaranteed to have any dance floor pulling it's hair out.
AA side 'Ultra 10' meanwhile shows off a fuzzed-out psychedelic side to his work. Heavier than metal, more intense than thrash, Lillica's influences from The Locust to French house coalesce into something that sounds like seizure.
Spending his youth kicking around and misbehaving with a group of Nottingham club kids that included Late Of The Pier, Lillica is the production voice to have been born out of Ricky Haley's infamous Liars Club scene.